"Experience" a new approach to the factory tour
The Turkey Hill Experience is not a guided tour — it's an indoor interactive attraction in Lancaster County, PA that you explore in any way you like. There is no one correct way to see everything. You and your family can investigate each interactive station in the order you want, spending as much time as you'd like in each area of the Experience.
What your family will see at the Experience
Although there are no actual ice cream or iced tea products being made at the Turkey Hill Experience (it's not a working factory), you can discover how these products are made in a fun and interactive set of exhibits and stations. You can produce and star in your own TV commercial, milk mechanical cows, and develop your own virtual flavor ideas.
And that's only the beginning. There are also lots of opportunities for kids to run, jump and play their way around the Experience, too.
Another area tells the Turkey Hill Dairy story through maps, videos, and a dairy exhibit featuring a milk display. You'll learn about how the Frey Family started Turkey Hill Dairy right here in Lancaster County, PA.
experience 60-90 minutes taste lab 45 minutes tea discovery 30 minutes
How long will it take to see everything?
Because there are so many things to do at our attraction, how much time you spend at the Turkey Hill Experience will depend on your group or family. But we suggest allowing approximately 60-90 minutes for only the Experience. If you plan on reserving seats in our Taste Lab, allow for an additional 45 minutes ... and if you are visiting our Tea Discovery, allow for 30 more minutes of fun!
Kids (of all ages) make their own flavor in the Turkey Hill Taste Lab
Whether you are a kid, or just a kid at heart, you'll love making your own ice cream. Enter the Taste Lab and put yourself in charge of creating your own ice cream flavor, ready for eating. You'll start with vanilla base and follow the same steps that we use in the factory...stir in the flavoring of your choice, add in a variety of delicious inclusions and finish it off with your favorite variegate.
Taste Lab is not included in the regular admission and is subject to availability. Reservations are encouraged.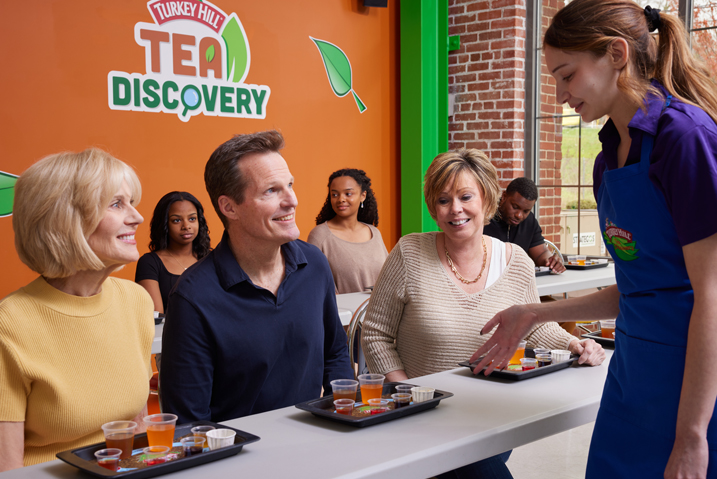 Experience Tea Discovery, and enjoy free samples
Discover, taste, and experience tea from around the world in a way you never have before in our Tea Discovery! Learn about tea origins, aromas and unique flavors from one of our tea experts. This is a 30-minute, reserved-seating experience.
Tea Discovery is not included in the regular admission and is subject to availability. Reservations are encouraged.
reserve tickets online today
What does it cost?
Admission rates vary based on age group and package selected. Children 2 and under receive free admission to the Turkey Hill Experience (Taste Lab and Tea Discovery are an additional costs). The military offer of one FREE basic Experience admission is available only to the person who served (not the entire party) and proper ID is required at the time of your visit.
| admission type | single experience | double experience* | triple experience** |
| --- | --- | --- | --- |
| adult (ages 13-61) | $13.50 | $22.45 | $27.45 |
| senior (62+) | $12.50 | $21.45 | $26.45 |
| junior (ages 3-12) | $12.50 | $21.45 | $26.45 |
| children (ages 0-2) | FREE | $8.95 | $13.95 |
| military | FREE | $8.95 | $13.95 |
Where in Lancaster County is the Experience located?
The Turkey Hill Experience is just minutes from Lancaster County's popular PA Dutch Country. It is built on the site of an old silk mill in the town of Columbia, Pennsylvania (about 20 minutes from Downtown Lancaster and 15 minutes from York, PA). We are conveniently located less than 1/4 mile from the Columbia/Marietta exit of Route 30.
Please see our map for turn-by-turn directions from some popular destinations like Philadelphia, Baltimore, Pittsburgh and New York, or use the map to create your own driving directions from your home to Lancaster County.
Experience hours
Because we're an indoor attraction, we are open year-round. Our hours of operation change with the seasons. The best way to know when we are open is to check our hours of operation page before you head out and visit us in Lancaster County, PA.
Visiting with a group of 20 or more?
The Turkey Hill Experience is not only a great choice for families with kids, but it's also an ideal place for groups of 20 or more people to visit. We offer lunch options and free bus parking. All of the things to do at the Experience (including exhibits, restrooms, and the Taste Lab) are accessible by wheelchair, and all public floors can be reached by elevator. To begin the scheduling process, please complete our Group Sales Information Request Form. One of our representatives will contact you within 48 business hours to discuss the details of your visit and answer any questions you may have.
Celebrate your birthday at the Turkey Hill Experience.
Will you be visiting us on your birthday? Be sure to ask a team member for a birthday pin to ensure everyone knows it's your special day! If you're bringing a few friends, throw a party at the Turkey Hill Experience! Check out our birthday party packages!